Carinthian-X-Break ist seit 2012 die größte und erfolgreichste urbane Tanzveranstaltung in Kärnten. Neben den verschiedenen Battles wurden auch 2019 wieder Breakdance und Hip Hop Workshops mit den Stars der Szene angeboten.
Mehr als 450 TänzerInnen und tanzbegeisterte ZuschauerInnen verwandelten den mittelalterlichen Amthof wieder in eine Tanzarena und damit zum perfekten Ambiente für die großartigen Leistungen auf der Tanzfläche. Durch das Engagement der Funky Monkez Crew in Kärnten konnte man sehen, dass sich das Niveau im Nachwuchsbereich enorm gesteigert hat.
Die 3 Wertungskategorien 1vs1 Breaking, 4vs4 All Styles und 2vs2 Mixed Styles haben sich bewährt, bieten viel Abwechslung und zeigen die gesamte Bandbreite des Breakdance.
Zum dritten Mal in Folge wurde im 1vs1 Breaking eine Wildcard für das größte Breakdance Battle in Österreich, das Red Bull BC One Cypher Austria in Wien, vergeben. Und da gab es eine Premiere: Herzlichen Glückwunsch an Bgirl Sina zum Gewinn der Red Bull BC One Cypher Austria Wildcard !!! Sie hat Geschichte geschrieben. Das erste Bgirl in Österreich, das eine Wildcard für das Main Event von Red Bull BC One Cypher Austria in Wien gewonnen hat.
____________________________________
Carinthian-X-Break has been the largest and most successful urban dance event in Carinthia since 2012. In addition to the various battles, breakdance and hip-hop workshops,
directed by the stars of the scene,
were offered again in 2019.
More than 450 dancers and dance-enthusiastic spectators transformed the medieval Amthof back into a dance arena and thus the perfect setting for the great performances on the dance floor. Thanks to the involvement of the Funky Monkez Crew in Carinthia, one could see that the level of young talent has increased enormously.
The 3 rating categories 1vs1 Breaking, 4vs4 All Styles and 2vs2 Mixed Styles have proven themselves, offer a lot of variety and show the full range of breakdance.
For the third time in a row, 1vs1 Breaking awarded a wildcard for the biggest breakdance battle in Austria, the Red Bull BC One Cypher Austria in Vienna. And there was a premiere: Congratulations to Bgirl Sina for winning the Red Bull BC One Cypher Austria Wildcard !!! She has made history. The first Bgirl in Austria to win a wildcard for the Main Event of Red Bull BC One Cypher Austria in Vienna.
Maximus / Ukraine / Mad State Crew
Lockalita / Austria / Fusion Lockers & O.S.A.C.
Red Bull BC One All Star BBoy Ronnie
Rickesh/ Italy / Inequalities Crew
B-boy Alister / Italy
B-boy Fabez / Argentina / Killabeat Crew

Uncle Willi / Austria / Prodigy Crew
Dj Cosmic / Austria
Da Bürgermasta / Austria / SMA Crew
Missa / Austria / Funky Monkez Crew
> 16 Jahren/years
only for Bboys/Bgirls living in Austria

B-Girl Sina
(Hakuna Matata Crew)
Sinamaria Ajdour (Innsbruck)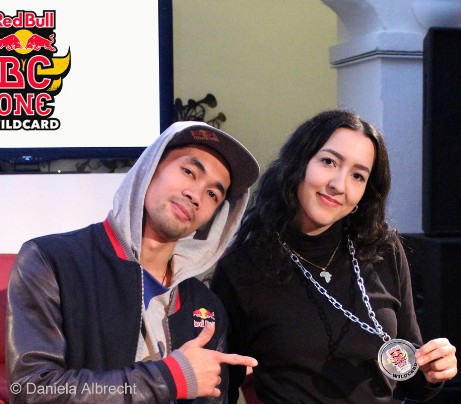 < 17 Jahren/years
international
Michelle Kerschbaumer - Sarah Unterrieder - Felix Draxl - Elias Th
urner (Kärnten)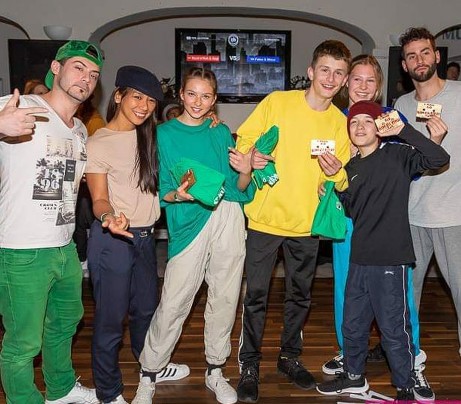 > 17 Jahren/years international
1 Breaker & 1 Hip Hop Tänzer/dancer
Roland & Enoch (Innsbruck)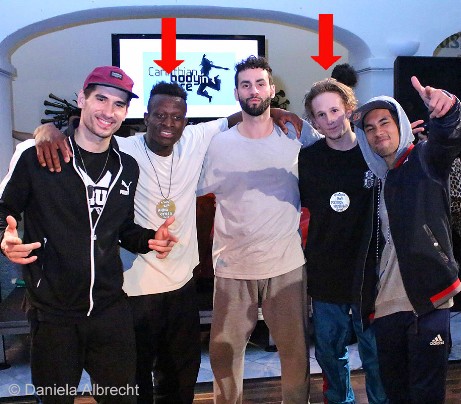 Peace, Love, Unity and Having Fun!